Welcome to

Atlantic

Sun

Virtual Airline
We are based out of four main hubs - Denver, Orlando, Boston and Amsterdam Schiphol. Additionally, we started operating out of Singapore Changi Intl. under our LCC brand
S.E.A.Gull
in 2008.
Founded in September of 1998, Atlantic Sun continues to strive for excellence, and we continue to meet our ultimate goal each and every day - to provide pilots with a realistic flight experience while maintaining an organized and professional environment. Atlantic Sun Airways is definitely a one of-a-kind virtual airline. Offering nearly unlimited numbers of flights per day, using different state-of-the-art aircraft, we provide an enjoyable and fulfilling virtual pilot experience.
Join today - we would love to have you as part of the team.
Atlantic Sun Airways... 'Expect more'.
Atlantic

Sun

Airways

::

main News
• Hub move and new fleet / schedules
(more)
• Upcoming schedule change
(more)
• Vatsim: March 16th, Friday Night Ops FNOklahoma
(more)
• Planned downtime alert June 10 / 11
(more)
• ASACARS v3 available!
(more)
• Atlantic Sun is pleased to present....
(more)
• Upcoming changes
(more)
• New 737-800 available for download
(more)
• Atlantic Sun Airways AI v3.0
(more)
• New ATR72-500 available for download
(more)
Atlantic

Sun

Airways

::

Screenshot of the week

::

by Andreas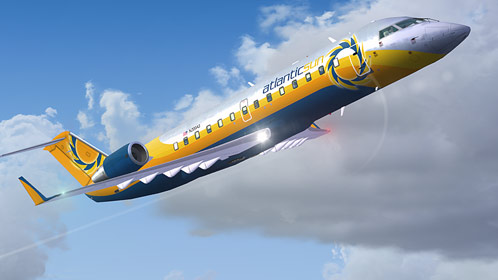 Atlantic

Sun

Airways

::

Recent Forum Posts
• FSX Jetway (more)
• Quick Cat A Aircraft Question (more)
• Colo Springs to Las Vegas (more)
• Chicago to Colo Springs (more)
• cant submit photos from photobucket (more)
• Filing Flights Manually (more)
• Good time to be a pilot (more)
• Monitor & GPU (more)
• Where's my post disappearing??? (more)
• Fleet ICAO (more)
• Asiatic Hub Possible?? (more)
• Flight Lessons (more)
• Is My pc supportive enough?? (more)
• Airport Approach (more)
• Stuart Redman's Screen Shots (more)
• Took the SEAGull Q400 for a "charter" (more)

•
Latest Denver pilot
Nicholas D. joined 2014-03-02
Edmonton, Alberta, Canada
•
Latest Boston pilot
Nick d. joined 2014-03-03
Rotterdam, Zuid-Holland, Netherlands
•
Latest Orlando pilot
Joćo C. joined 2014-03-04
Lisbon, Lisbon, Portugal
•
Latest Schiphol pilot
Matthew H. joined 2014-03-09
London, London, United Kingdom
•
Latest Singapore pilot
Erik Y. joined 2014-02-17
Bandung, West Java, Indonesia
Atlantic

Sun

::

Top Pilots
•
Denver's Top Pilot (Mar. 2014)
Thomas D., 67 hrs (2,575 total)
•
Boston's Top Pilot (Mar. 2014)
Steven S., 69 hrs (4,333 total)
•
Orlando's Top Pilot (Mar. 2014)
David F., 33 hrs (3,162 total)
•
Schiphol's Top Pilot (Mar. 2014)
Richard W., 80 hrs (1,788 total)
•
Singapore's Top Pilot (Mar. 2014)
Dinko A., 31 hrs (6,059 total)
Atlantic

Sun

::

Latest Flight Reports
•
Latest Denver Flight Report
| | |
| --- | --- |
| Pilot: | Cliff H. |
| Flight #: | 6074 (DHC-8-Q400) |
| Departed: | 0045 from WARJ |
| Arrived: | 0140 at WICC |
| Hours: | 0.9 |
•
Latest Boston Flight Report
| | |
| --- | --- |
| Pilot: | Frederick B. |
| Flight #: | 3090 (B-717-200) |
| Departed: | 1831 from KFLL |
| Arrived: | 2219 at TNCM |
| Hours: | 2.8 |
•
Latest Orlando Flight Report
| | |
| --- | --- |
| Pilot: | Alan C. |
| Flight #: | 4502 (CRJ-200ER) |
| Departed: | 2010 from KMCO |
| Arrived: | 2040 at KJAX |
| Hours: | 0.5 |
•
Latest Schiphol Flight Report
| | |
| --- | --- |
| Pilot: | Nico S. |
| Flight #: | 3702 (CRJ-900) |
| Departed: | 0820 from LGKO |
| Arrived: | 1005 at EDDN |
| Hours: | 2.8 |
•
Latest Singapore Flight Report
| | |
| --- | --- |
| Pilot: | Dinko A. |
| Flight #: | 1345 (B-777-300) |
| Departed: | 0622 from EFHK |
| Arrived: | 2222 at WSSS |
| Hours: | 11 |