Atlantic

Sun

Airways

::

News
2005-06-17
PSS A319 released in ASA livery
The Fleet Dept is pleased to announce another payware repaint for our airline. The PSS Airbus Pro series was very kindly donated by Chris Hulme! Thanks, Chris!
After struggling with the paintkit (which has a MAJOR error), I'm happy to release pictures of the copmpleted repaint. The textures will be available upon the updating of the fleet page by our President, Mr Andreas.
There were quite a few issues I had with the paintkit, but I did the best I could with it and I hope you like it. I would encourage you guys to get the PSS Airbus Pro addon. It contains the A319/A320/A321 models and is only 7.50GBP (U.P. 15.00 GBP)
PSS is selling all their products at half price so this is a great time to get it. In fact, after flying the A319, I *actually* went and bought a payware! Yep, you heard me right, I bought the PSS A330! It's well within my reach and I must say that after all the kind donations, I'm beginning to see the light!!
Well, enough talking. Here are shots of the paintjob! Have fun to all the PSS Airbus Pro owners!
-Phillip Tan
Fleet Director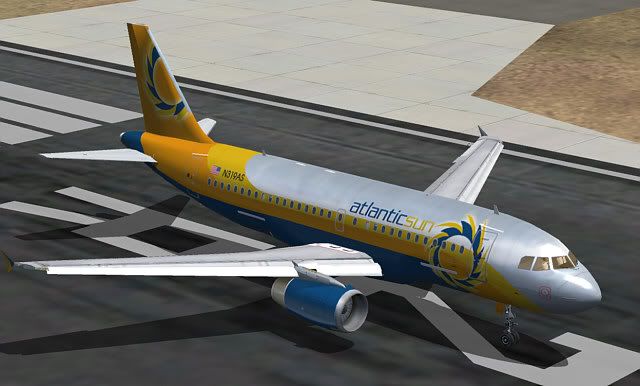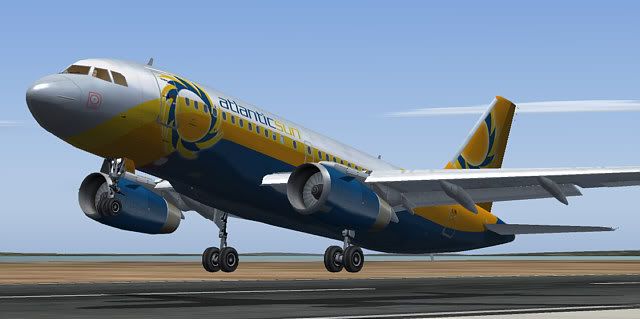 ---
With 18 years of operations, Atlantic Sun Airways is at the vanguard of the virtual aviation hobby. Utilizing the latest in technologies such as a PHP-based website, automation system, and downloadable timetable software, Atlantic Sun Airways is committed to providing pilots with the most fun, realistic and unique flight simming experience possible while maintaining an organized, professional environment. Atlantic Sun Airways utilizes a fleet of different, state-of-the art aircraft and flies a route network of over 3000 flights, while maintaining a constant roster of at least 300 active pilots - making Atlantic Sun Airways one of the most recognized and popular VAs on the net.
Atlantic Sun Airways... "expect more."